Services* & parts
In order to adapt our offer to each situation, we have, within the KUHN Group, developed a comprehensive and customizable service offer via our distribution network. Our goal, with these services, is to bring you peace of mind by adapting the most thoroughly our offer to your expectations and avoiding unpleasant surprises. This way, we are at your side daily.
*Certain services are not available in all countries.
DESIGNED AND MANUFACTURED TO RIVAL TIME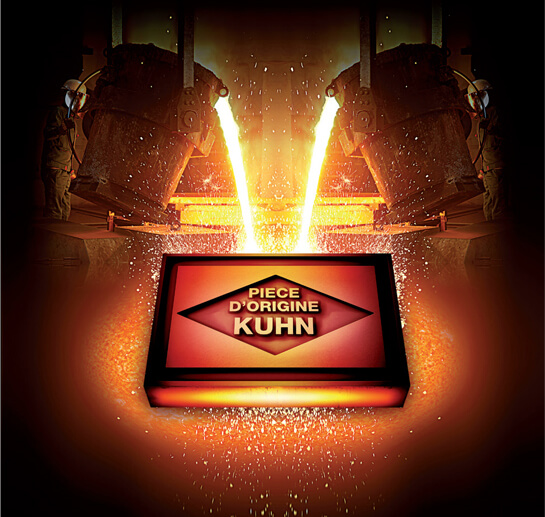 With genuine KUHN spare parts you are ensured of being able to manage your work with total peace of mind. Our own foundries, our forge, as well as a high-level manufacturing process allow us to produce spare parts to rival time.
Our metallurgic analysis labs control all materials and supplies entering our facilities. The various cast irons and steels used in our equipment depend on their resistance to traction. A part subject to high stress during work will rather be manufactured from forged steel. This is the case with gearwheels of power harrows, drive shafts, pins but also plough shares and points manufactured in our forge.
Express spare parts service 24/7
You urgently need spare parts? With KUHN sos order benefit from express delivery seven days a week, 362 days a year**. Thus, you can minimize the downtime of your machine and increase your work output.
**Except January 1st, May 1st and December 25th.
Reduced downtime
The KUHN Parts logistics platforms distributed all over the world can help locate parts close to their place of use to ensure optimum availability as well as short delivery times.
Ensured minimum downtime and optimized production costs.

The spare part GPS
Looking for a spare part, which is difficult to find? Ask your authorized KUHN dealer. Via KUHN i search, he is in direct contact with every approved KUHN partner across the world to find the right part for you.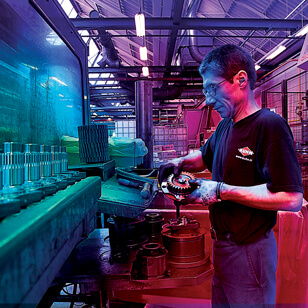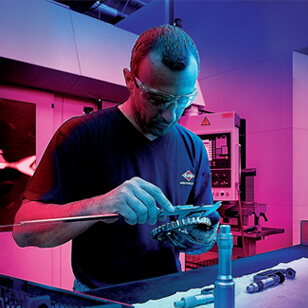 PROMOTERS OF YOUR SATISFACTION
KUHN provides benefits for maximum gain and profitability of your machine. Our support makes the difference. Receive advice of our trained partners about the latest products. Benefit from a complete technical documentation that will accompany you and your machine during all its service life.
Anticipate the unexpected with KUHN protect+ warranty extension and benefit from quick technical support thanks to KUHN i tech. Last but not least: Invest rationally with KUHN finance.

The choice of professionals!
Benefit from 36 months warranty extension with KUHN protect+. You can concentrate exclusively on your work and the performance of your machine. Because this is what you expect, when investing in high-tech machinery.

For even quicker repairs!
An unexpected technical problem always occurs at the wrong time. Your KUHN dealer can support you quickly and efficiently thanks to KUHN i tech. With this 24/7 online service, a quick and exact diagnosis is possible.
Custom-made financing!
New machine necessary, financing unsure? Modernize your equipment and develop your farm with KUHN finance, in total security and according to your needs and demands. We offer custom-made finance solutions, adapted to your requirements.
Also consult...
MyKUHN, the new on-line customer area
MyKUHN is your on-line customer area. Create your account today and discover how the exclusive services offered by MyKUHN will facilitate the management of your KUHN machine fleet.
188.9 hectares in 8 hours
KUHN has set the Raking World Record: 188.9 hectares in 8 hours, certified by the DLG (Deutsche-Landwirtschaft-Gesellschaft).
Step into the Raking World Record in Denmark. The 4 rotor gyrorake GA 15131 from KUHN's range of hay & forage making machines set the record, coupled to a 6250R John Deere tractor.
More than 190 years of Excellence
Today, more than ever, we believe in the future of agriculture and our industry. Our 190 years of experience and the commitment of our staff, combined with the performance of our distribution networks that ensure proximity with customers, enable us to look to the future with passion and confidence.