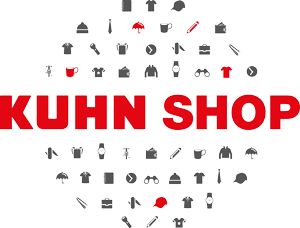 Creating emotion... 190 years of history have helped to shape a very strong image of the KUHN brand and its products all over the world, around a few fundamental values, never contradicted: the quality of work well done, the attention to detail and the finish, innovation that is both useful and practical, always deployed to benefit the user... These are the same sources of inspiration that guided us in the choice of the items that we wanted to integrate into the KUHN shop 2019/2020 catalogue... Whether you are an adult or a child, we hope you will find in these pages, the objects that will meet your current wishes, appeal to you by their practical side or which will make you vibrate by allowing you to proudly bear the colours of the KUHN brand.
AGRITECHNICA 2019 exclusive: 2 new items will be available. Discover them on our stand.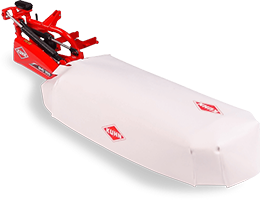 GMD 355 (Universal Hobbies)
Collector model on the scale of 1:32 in metal with plastic parts. KUHN packaging.

MERGE-MAXX 950 (ROS)
Collector model on the scale of 1:32 in metal with plastic parts. KUHN packaging.
Also consult...
MyKUHN, the new on-line customer area
MyKUHN is your on-line customer area. Create your account today and discover how the exclusive services offered by MyKUHN will facilitate the management of your KUHN machine fleet.
188.9 hectares in 8 hours
KUHN has set the Raking World Record: 188.9 hectares in 8 hours, certified by the DLG (Deutsche-Landwirtschaft-Gesellschaft).
Step into the Raking World Record in Denmark. The 4 rotor gyrorake GA 15131 from KUHN's range of hay & forage making machines set the record, coupled to a 6250R John Deere tractor.
More than 190 years of Excellence
Today, more than ever, we believe in the future of agriculture and our industry. Our 190 years of experience and the commitment of our staff, combined with the performance of our distribution networks that ensure proximity with customers, enable us to look to the future with passion and confidence.